Thursday 07 May 2020
Elevate your Bedroom with Upholstered Beds & 11 Decorative Tips!
Upholstered beds: A proposal that can take your bedroom to the next level!
Close your eyes and imagine the feeling of well-being you get every time you enjoy a relaxing sleep in an environment you truly love! The first images you see, when you wake up in the morning, can lift your mood, and that is why designing a bedroom exactly as you dream it is of the utmost importance.
That's why, creating an ideal sleeping environment can significantly improve your daily life. Furthermore, when we talk about the bedroom, the first thing that comes to mind is the bed. What would you say if you could create the bed of your dreams through a variety of combinations?
Double beds are the new trend that came to stay! Select materials, fabrics and shades that suit your aesthetics and mood, combine them with the appropriate nightstand and create a bedroom set tailored to your measurements! So, let's take a look at 10 + 1 reasons on why upholstered beds are the beginning of the renewal of your bedroom:
So, let's take a look at 10 + 1 reasons on why upholstered beds are the beginning of the renewal of your bedroom:
1. First things first, upholstered beds are soft and can add a fluffier, more comfortable atmosphere in your room. Their fabrics are ideal for creating a warm and comfortable atmosphere.
2. They come in a variety of colors and materials. There are endless choices for fabrics, styles and colors, which means you that can easily find the perfect match, according to your personality. Fabric, as a material, is a perfect choice if you want to create a statement piece.
3. Due to their removable covers, they are not only easy to clean, but they also allow you to change the overall style of your personal space whenever you feel like it.
4. They help you maintain a constant temperature. Their fabric responds well to the temperature of the surrounding area, which means that you can stay cool during the summer months, and warm during the winter time.
5. Changing their headboard is enough to change the overall style of the bed from minimal to classic to modern.
6. Upholstered beds are more durable than you think, as their fabric does not scratch or wear out, which means that they are ideal for a "busy" household. Scratches from your pet's nails will not impede their style and integrity.
7. Moreover, they can help you create unique mix & match combinations, choosing different colors and fabrics for the headboard and the base.
8. They have a noticeable effect. Upholstered beds are great for creating a cozy space. Especially in the case of large bedrooms, they are extremely central pieces that offer a sophisticated and resounding bedroom décor.
9. They ensure a peaceful sleep as they do not creak.
10. Due to the lack of dangerous sharp corners, they provide total safety.
11. You can easily combine them with multiple styles of furniture, by changing their fabric to fit your personal space.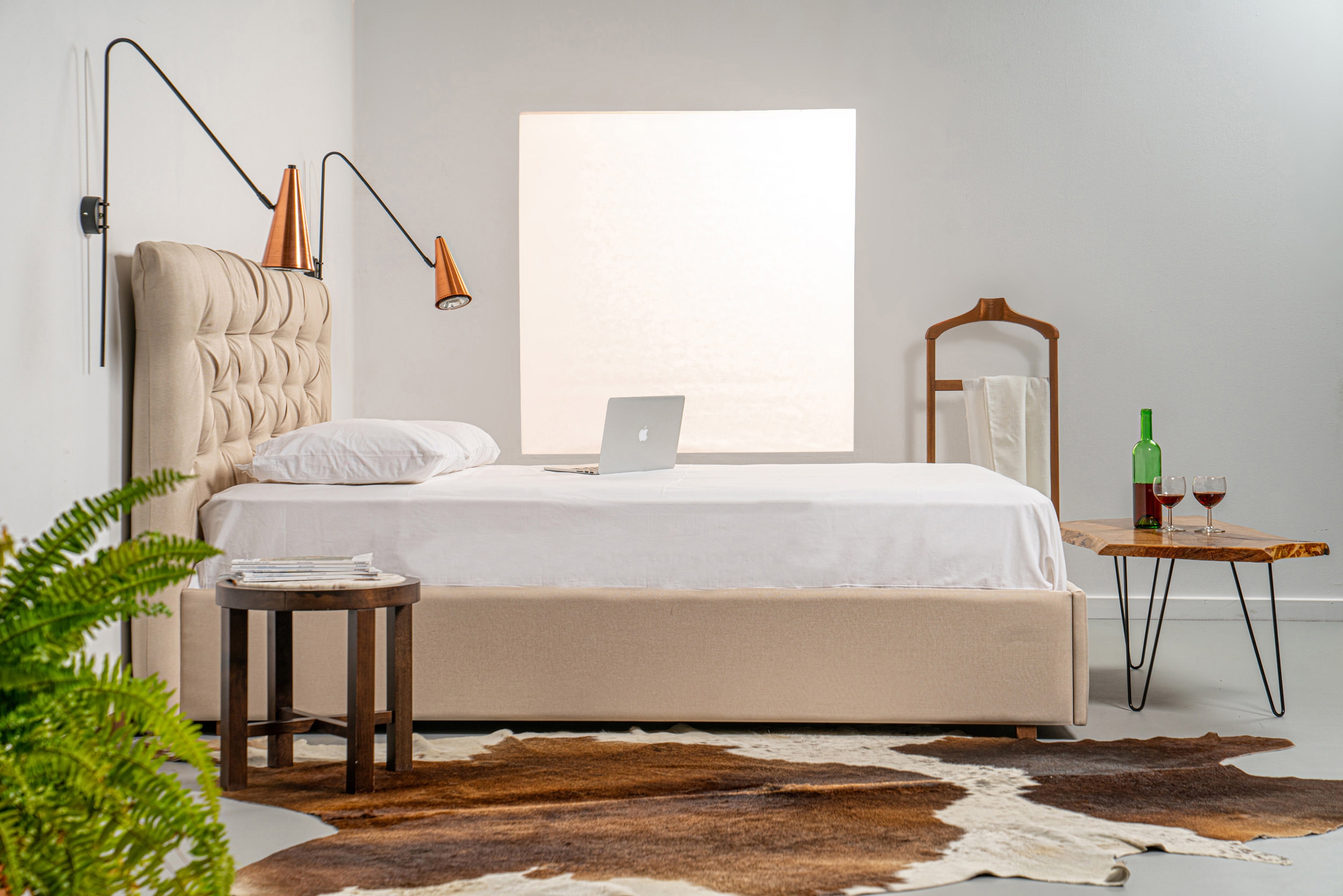 Double or single upholstered beds, fitted with storage space, are now an affordable luxury that will highlight your personal style in your space. Efdeco's suggestions on upholstered beds are the result of a long professional experience.
Related Articles - Pages:
Select the right frame, choose the headboard that best suits your aesthetics, complete with the right color and finish your new bedroom! Upholstered beds are undoubtedly a timeless proposal that can elevate your sleeping experience!
Join Our Newsletter
Subscribe to our newsletter and stay updated on the latest information regarding New Arrivals, Offers and Discounts.
You must accept the Terms & Conditions before subscribing.