Friday 15 February 2019
Living Room Set Offers: Find the Ideal one for you!
Living Room Compositions (Offers) - Efdeco: Find the right one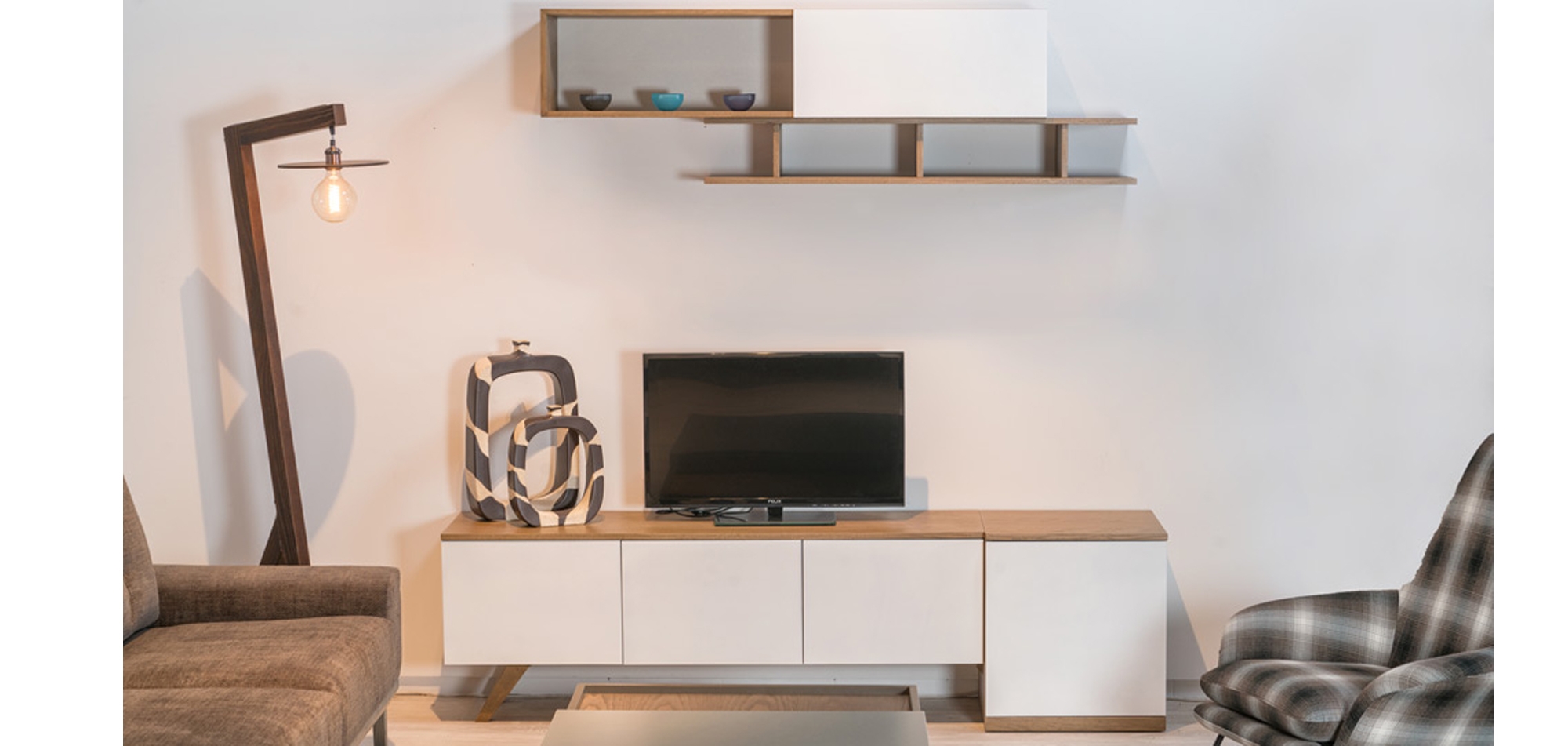 Living room compositions are undoubtedly the most practical pieces of furniture. They are ideal for the prominent placement of your TV, giving you a better viewing angle and adding enough storage space for relevant technical equipment, as well as, a variety of decorative interventions.
So, while you are considering buying one you should always take into account how much space you need for your technical equipment, how you can arrange the cables, which is the ideal base size and what are the general needs of your space.
Efdeco's principle is that every space must be of excellent quality, functional and elegant. There are many suggestions that fit the criteria above. So, choose from our suggestive offers and select the right composition that embrac
Colina, Living Room Composition (Offer)
A composition in earthy and bright colors that offers a unique feeling of renewal in your space, through the elegant coexistence of white shades with light wood color. The MDF constructed frame creates an extremely durable structure at a very affordable price. The Colina living room composition is an option that satisfies practical and aesthetic needs thanks to its spacious surface. It's fitted with a TV stand on top of a cupboard, separated by a shelf, and with a showcase that has an internal shelf.
Uno, Natural Wood Composition (Offer)
An interesting proposal in a modern style that meets the expectations of modern interior design and lifestyle. The Uno composition is made of natural oak wood, in various shades, combined with wonderful colors and lacquer details. This composition is made in Greece.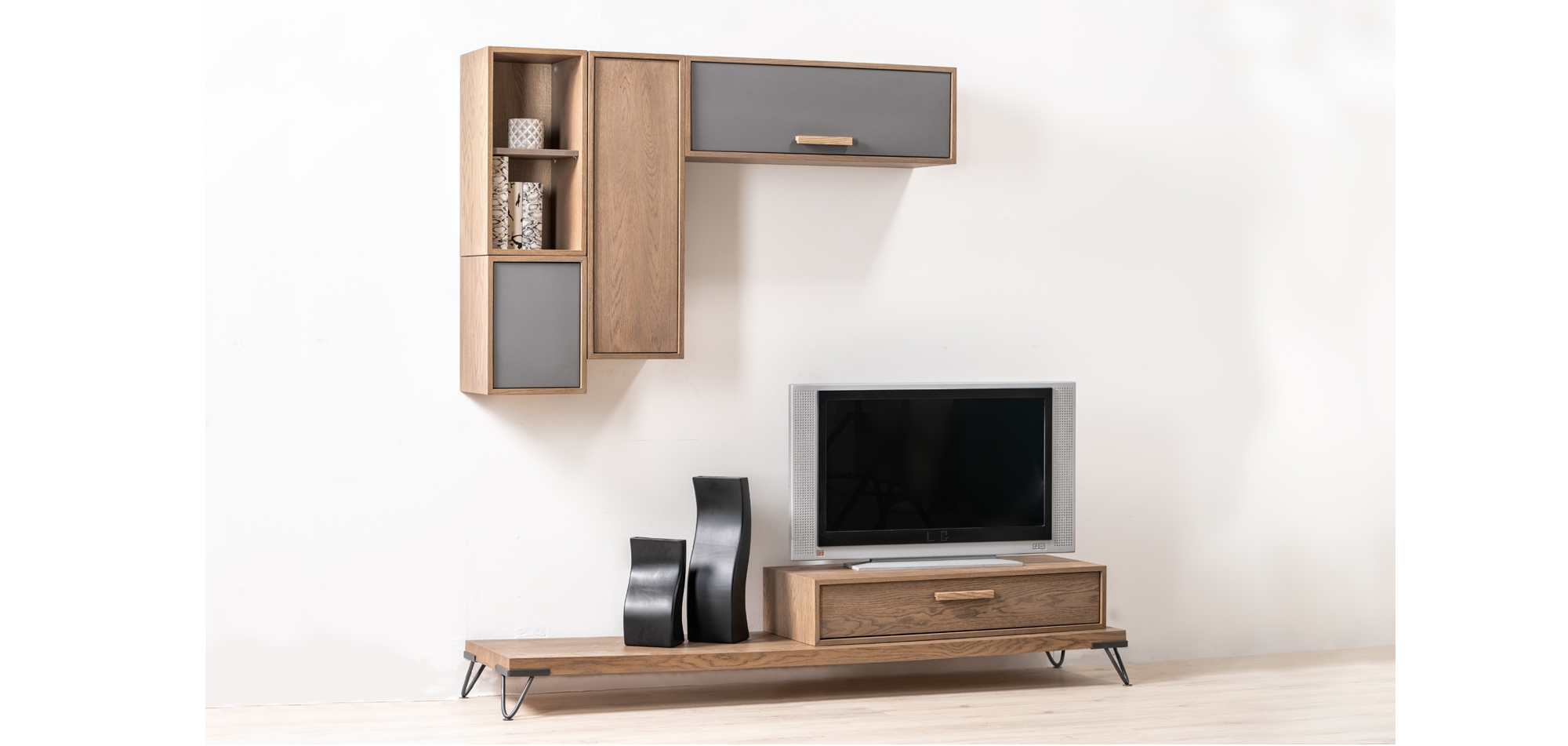 Tre, Natural Wood Composition (Offer)
Want even more storage space? The Tre composition is another proposal of Greek origin that manages to harmoniously combine modern style with the quality and durability of natural oak wood.
Enjoy multiple storage spaces in a construction that knows how to maintain its elegant style while offering maximum functionality.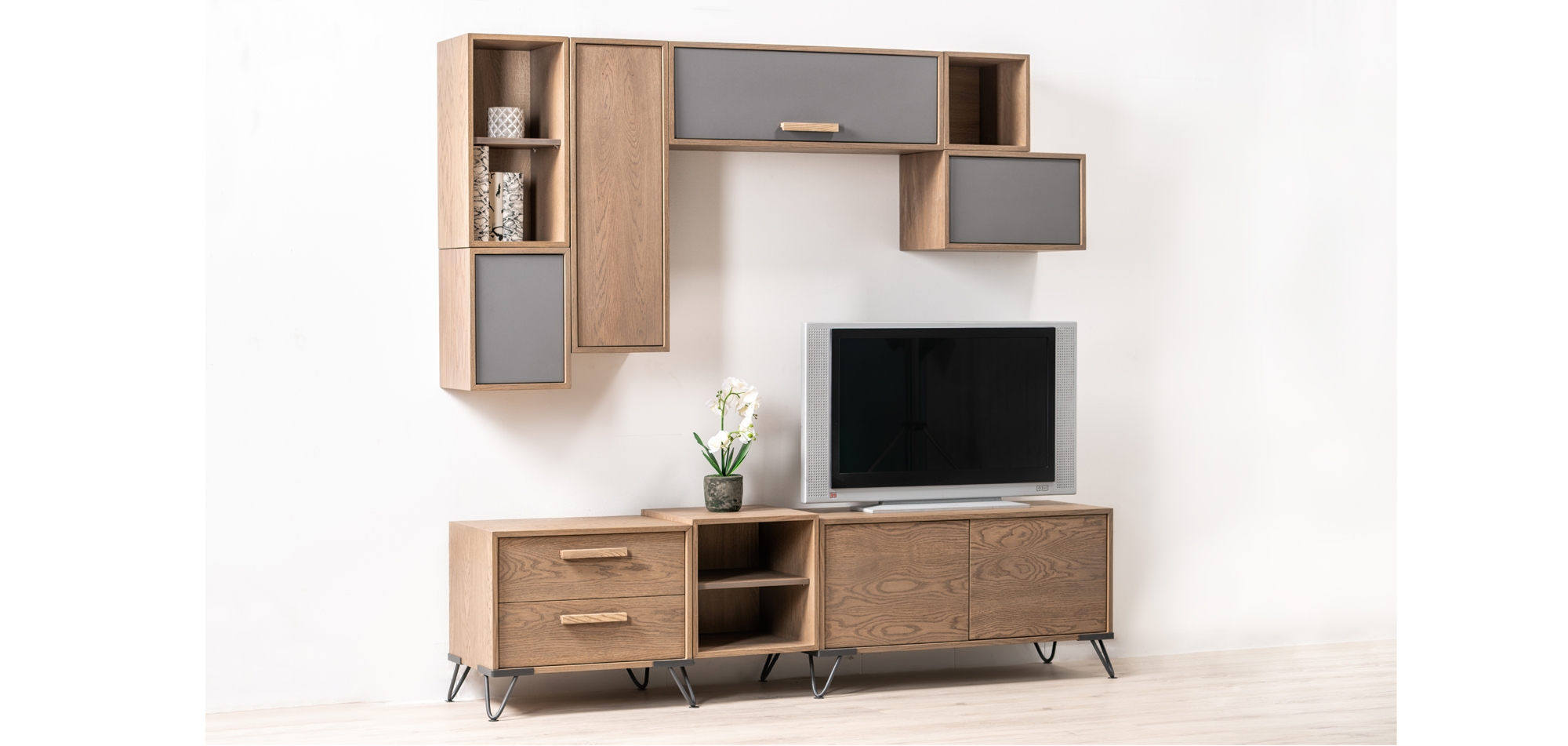 Wilder, Living Room Composition (Offer)
The Wilder Composition is a stylish set, which allows you to take advantage of every inch of it. Place your TV on top of the base and arrange your home cinema equipment and disc collection safely and comfortably in the cupboard placed below it.
Take advantage of the remaining storage space by adding decorative touches. This composition is made of chipboard with artificial veneer enamel, which ensures durability and natural appearance at a uniquely affordable price.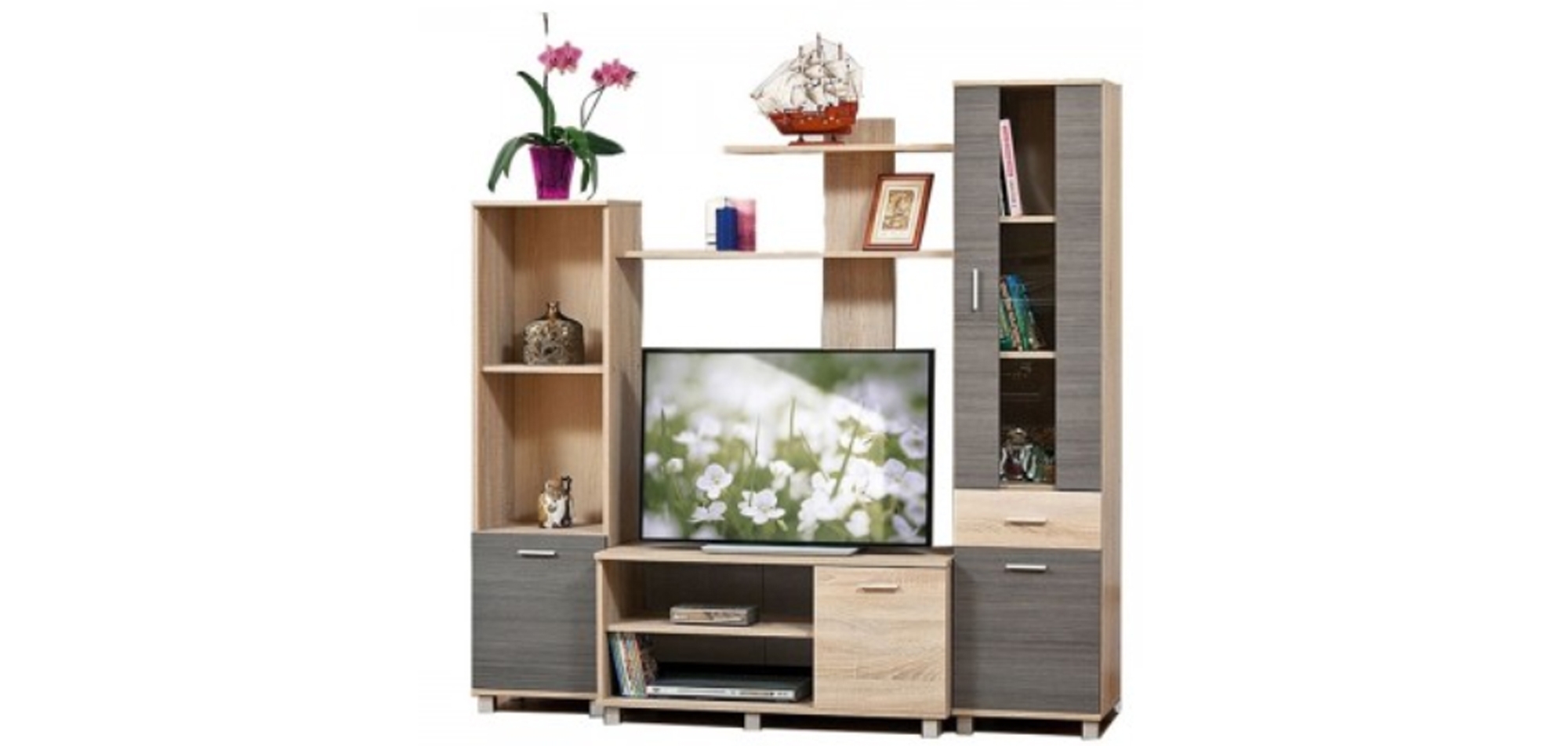 Kleio, Natural Wood Composition (Offer)
A beautiful living room composition as the name suggests! The Kleio living room composition is made in Greece from natural oak wood with lacquer details. It smartly and elegantly combines storage spaces with a showcase and a library.
Decorate it with your personal taste and create a composition that will accompany every moment of relaxation in your living room.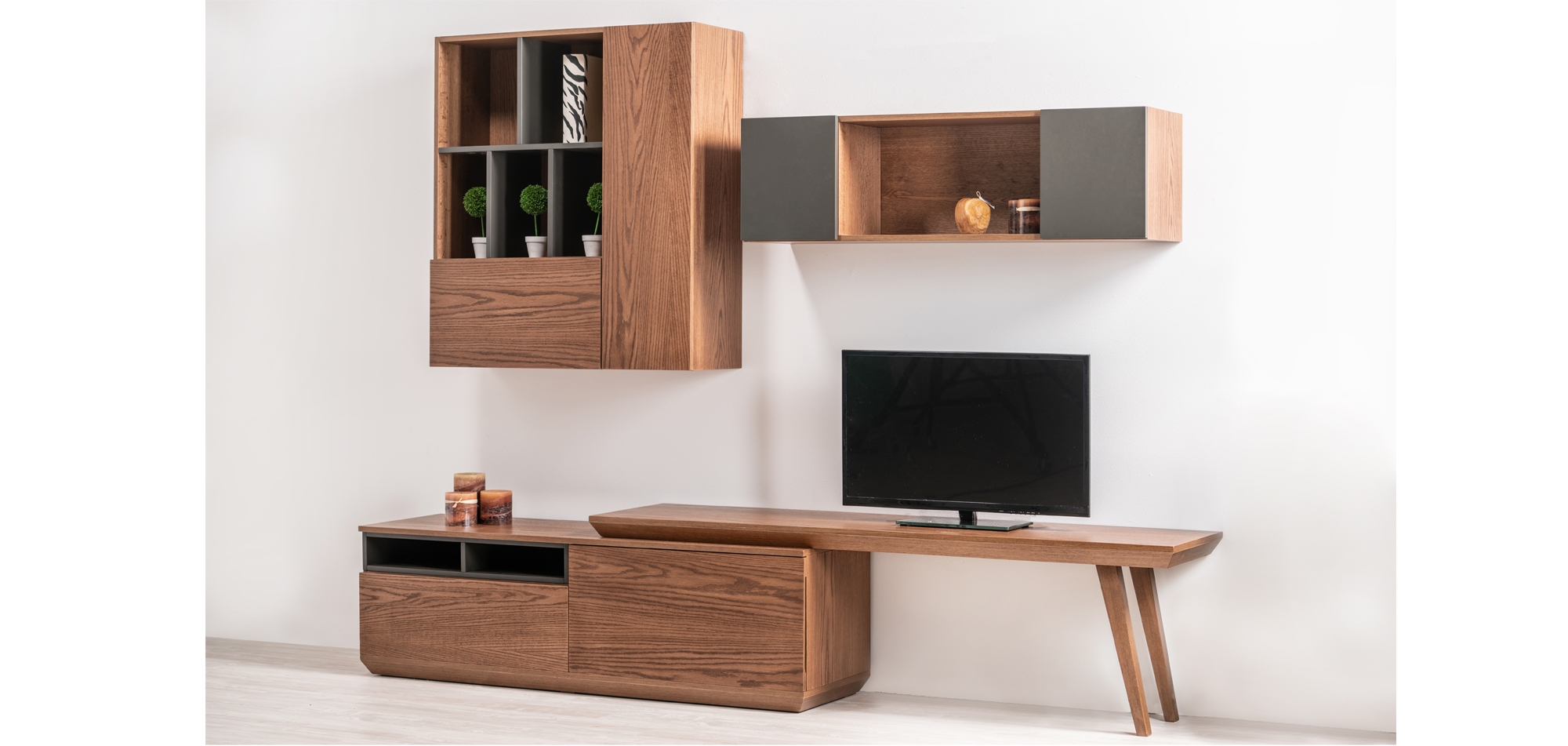 Find even more suggestions and offers on modern living room compositions and obtain a smart ally when it comes to home decorations. Thank you for visiting our Living Room Composition Offers page.
Join Our Newsletter
Subscribe to our newsletter and stay updated on the latest information regarding New Arrivals, Offers and Discounts.
You must accept the Terms & Conditions before subscribing.