Saturday 07 September 2019
Modern Decorations for a Boy's Bedroom

#Style_Vibes: Creative Ideas for Decorating a Boy's Bedroom
Boy's Bedroom: Decorating a boy's bedroom offers you the freedom to play in the most imaginative ways!
Your little boy grows up, and with his age, his interests and needs change.
If you haven't renovated your boy's bedroom, since your little one was a baby, it's time to do it by creating a place that will be enjoyed throughout his childhood.
Now, if you are wondering where to start when decorating a boy's bedroom, the answer is very simple: Always start with his interests and passions.
Find the things that he really loves, add a touch of fun, and offer him a space, with a beautiful environment to grow into.
If you are limited by budget, aim for a flexible space that can combine your son's childhood interests with sophisticated decorative touches that will accompany him to his teenage years.
However, if you have the mood and the financial comfort for big changes, you should definitely invest in a fantastic, themed boy's bedroom.
In any case, whichever way you decide to go, always remember to focus on the fun aspect, because you should never forget that your little son gets to be a child only once, and it is imperative that he will enjoy his childhood in every possible way!
A place for action


This boy's bedroom offers a place full of fun, ideal for any child who loves action and adventure!
Durable and timeless, wooden children's bedroom. It's fitted with a rope ladder that leads to a hammock with lots of comfortable and practical pillows that offer extra seats. Let the action begin!
In a Galaxy Far, Far Away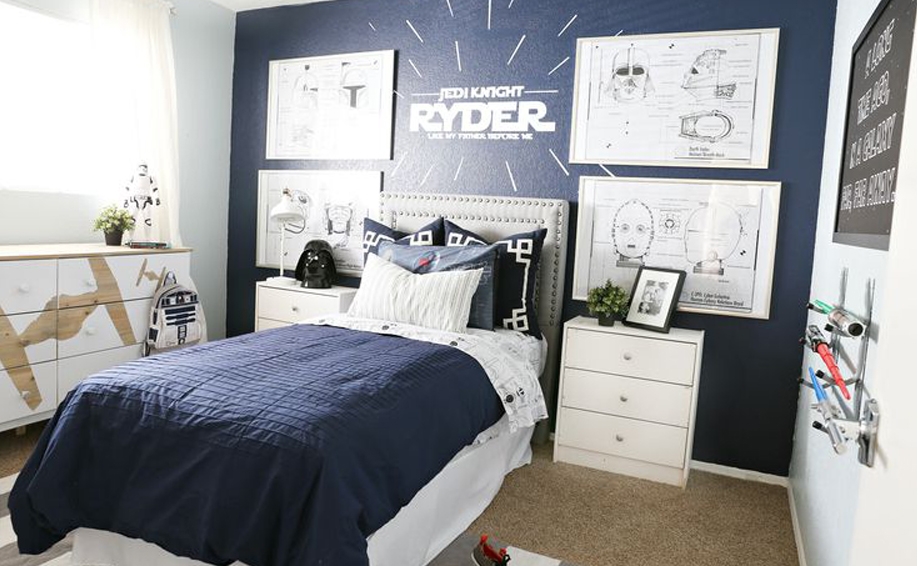 This Star Wars-themed proposal is the perfect combination of fun and style.
By incorporating timeless movie stills, favorite characters and cool collectibles, such as lightsabers, into a clean and bright design approach, your little Jedi will have a youthful place that he will definitely love for many years to come.
Let the game begin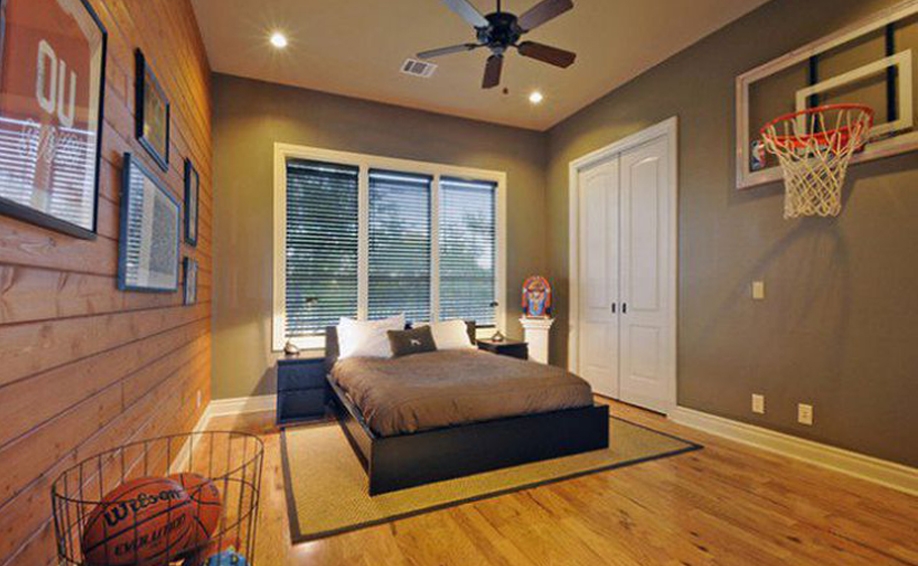 With polished wood flooring, interior lighting and a sports theme, this boy's bedroom resamples a basketball court.
Stylish and elegant, this clever proposal is the undisputed winner, providing your little one with a space to have loads of fun!
The little scientist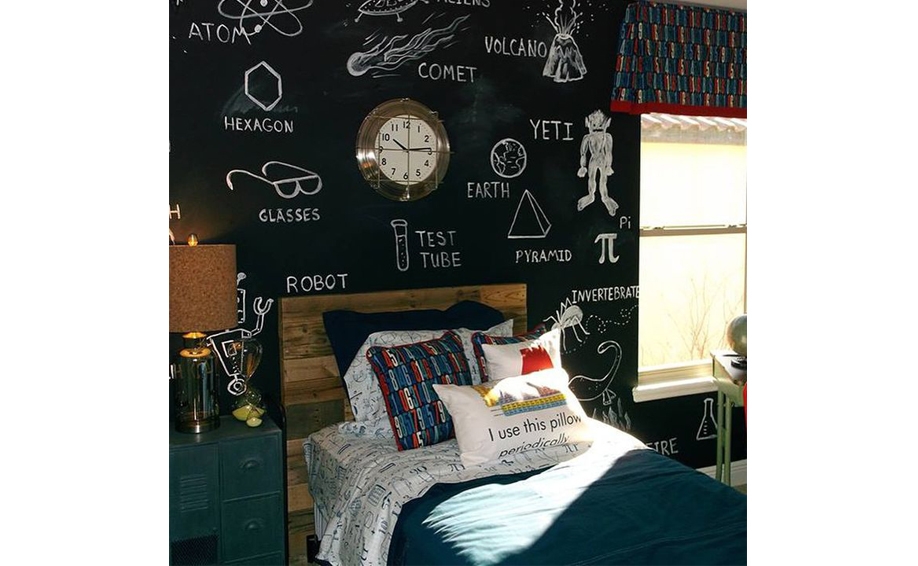 Does your little "Einstein" require "space and time" to write his own science charts and math formulas?
This playful bedroom makes math and physics super fun!
A wall fitted with a blackboard and some decorative chemistry laboratory instruments add the perfect touch to this boy's bedroom.
Use the blackboard and provide your little one with a space to write his own theorems and thoughts, constantly changing the atmosphere in the room.
Camping time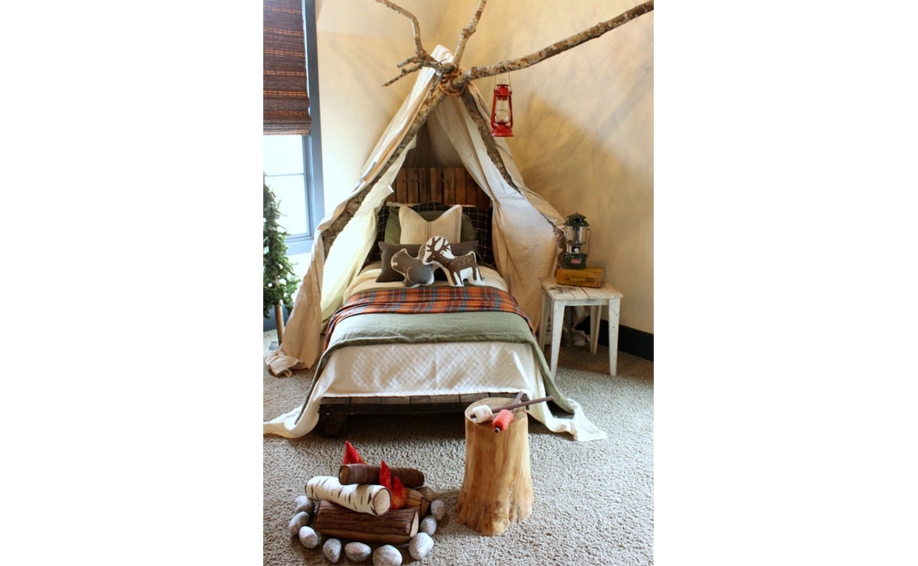 If your child really loves nature, then offer him the wonderful feeling of the countryside, with a boys' bedroom inspired by mountain camping. Wooden constructions, combined with natural branches and imagination, achieve a unique rustic ensemble.
Room with a view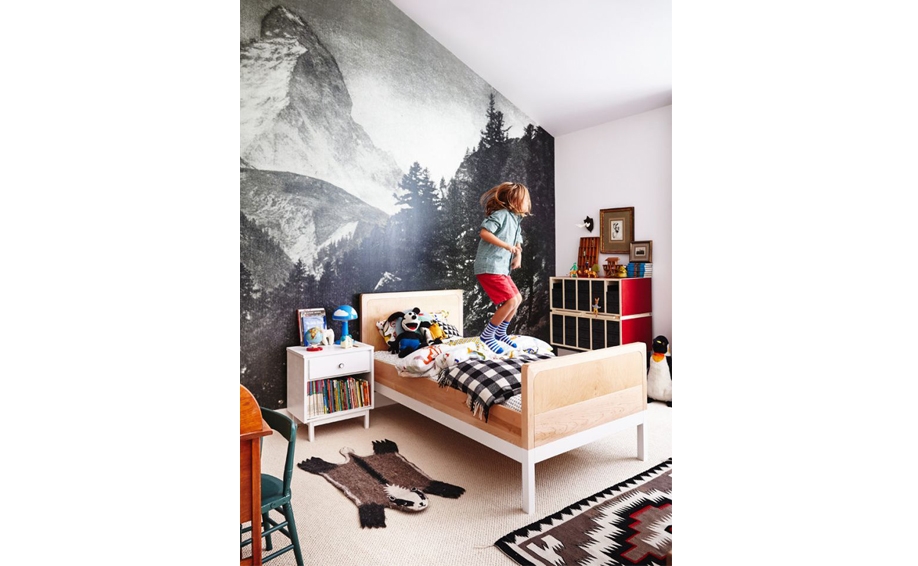 An impressive, mountain view wallpaper dominates this bold and rustic bedroom.
The central protagonist of this bedroom is a stunning wallpaper that covers the entire wall. Choose your own view and create a unique "escape" inside your children's bedroom.
Listen to your son's needs and favorite habits, and create a lovely and imaginative boy's bedroom that will function daily as his favorite shelter.
Thank you for taking the time to read our article: Decorating a boy's room.
Join Our Newsletter
Subscribe to our newsletter and stay updated on the latest information regarding New Arrivals, Offers and Discounts.
You must accept the Terms & Conditions before subscribing.